Delivering Commercial 2 Corporate Cabin Crew Training & Recruitment Services
Welcome to our our 4 E-Learning modules, these modules are not specific to any region of the world. Here you will learn from 4 different modules covering different aspects of the role of a corporate flight attendant.
Learn from industry experts with over 45+years our video learning for 15 days from purchase where and when and as many times as you would like with instant access and downloadable certificates.
Module 1 Corporate Flight Attendant Role – 7 topics with 23 video lessons
Module 2 The CFA Interview Procedure – 6 topics with 16 video's lessons
Module 3 Catering a VIP Aircraft – 4 topics with 13 video lessons
Module 4 Introduction to Corporate Aircraft – 6 topics with 20 lessons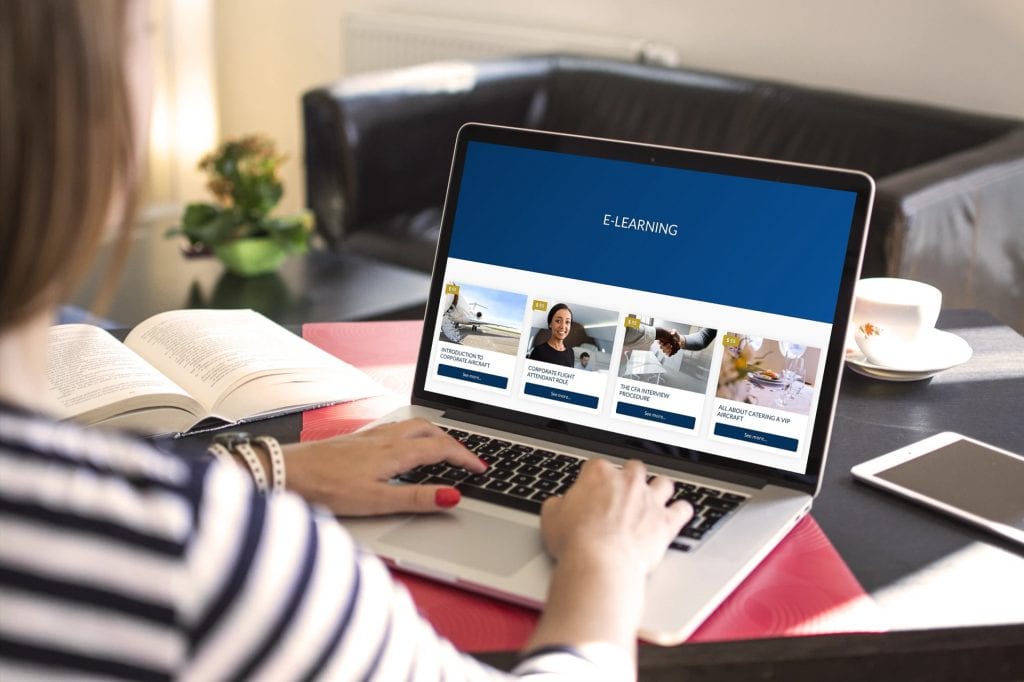 Package bundle ​save up to $103 USD
FOR $399 USD
This module is called The VIP Flight Attendant Introduction
Introduction to Corporate Aircraft
Corporate Flight Attendant Role
The CFA Interview Procedure
All about Catering a VIP Aircraft
Available for 15 days from date of purchase
Buy all 4 as a bundle and be included in our job alerts
UPCOMING COURSES
Start your corporate flying career off by attending our essential courses
SERVICES
Start your corporate flying career off by having the right CV and photographs by utilising our services and experience
What Our Students Have to Say
Knowledge is power and a priceless investment into your future goals. Thanks to both mentors James and Jen for all their professional knowledge gained from the course to better prepare me for corporate flying. I would recommend this course to everyone who wants to transition to corporate flying. Both trainers have years of experience and have worked for the best. They prepare you to make your career goals reality. Stand out in your interviews and learn from the best! Certificate provided at the end of the course to add to your resume. Along with professional photos.
I attended both essential First Steps and Silver Service courses. Both courses are amazing, definitely recommend them if you are willing to work on yourself and your future. First steps introduced me to basic knowledge of corporate flying, trainer James was very helpful, friendly and approachable. He answered all my questions and explained everything in detail and shared his tips and experience. The Silver Service was absolutely fantastic, very interactive and informative. I feel so much more confident with my skills. There is so much you can learn with these courses and will definitely make you to stand out more during your future interviews. Really enjoyed it and strongly recommend.
A big thank you to Jen who spent her day going through the c2c course with me! The course was very informative and answered my questions about corporate flying! Jen was lovely and shared her experiences of working on a private jet! I learned a lot in a short time and have been given help with my CV as well as advice on what to do next! Thank you this gave me a really good insight
Great day, good insight into the world of corporate flying. Definitely would recommend this course to others if they are thinking of transitioning for commercial to corporate flying. Trainers have lots of knowledge, experience and are open to any questions or concerns you have. Really enjoyed it, thank you.
Brilliant course well run with a fantastic trainer, with genuine first-hand, experience! I highly recommend this course, if you are genuine about a career in corporate take the first step to ensure you stand out from your competition. After failed interviews and applications thinking I could do it on my own I now feel confident to pursue my dreams. Thank you for a lovely and informative day!
A very useful course for those who want to learn and understand what corporate flights are, to clarify for themselves the key points that will guide you and help you to make a right decision. Thanks to the amazing team for their excellent work and warmest atmosphere.